What is Chronic Pain?
"Chronic pain" means pain that has lasted for a long time, longer than 3 months. It persists even though the initial injury has healed. There are many causes for chronic pain and some of them are very complicated. With chronic pain, it is important to remember that 'hurt' does not necessarily mean 'harm'.
Please take the time to watch these videos below:
Expectations – Can Chronic Pain be Improved?
You are in charge of setting your goals for managing chronic pain.
And feeling better with chronic pain is entirely up to YOU and your self-management. Doctors and physiotherapists can help, but the main work is up to you.
With chronic pain, even if your pain does not 100% resolve, there are ways to help so that you can get back to enjoying and living your life!
Examples of realistic goals may be something like:
Moving Better
Being able to do daily activities.
Getting back to activities or hobbies you enjoy.
Improving your pain level by 30%.
TREATMENT – WHAT CAN YOU DO TO FEEL BETTER?
TREATMENT GUIDELINES:
The following summary is from the PEER Simplified Chronic Pain Guideline: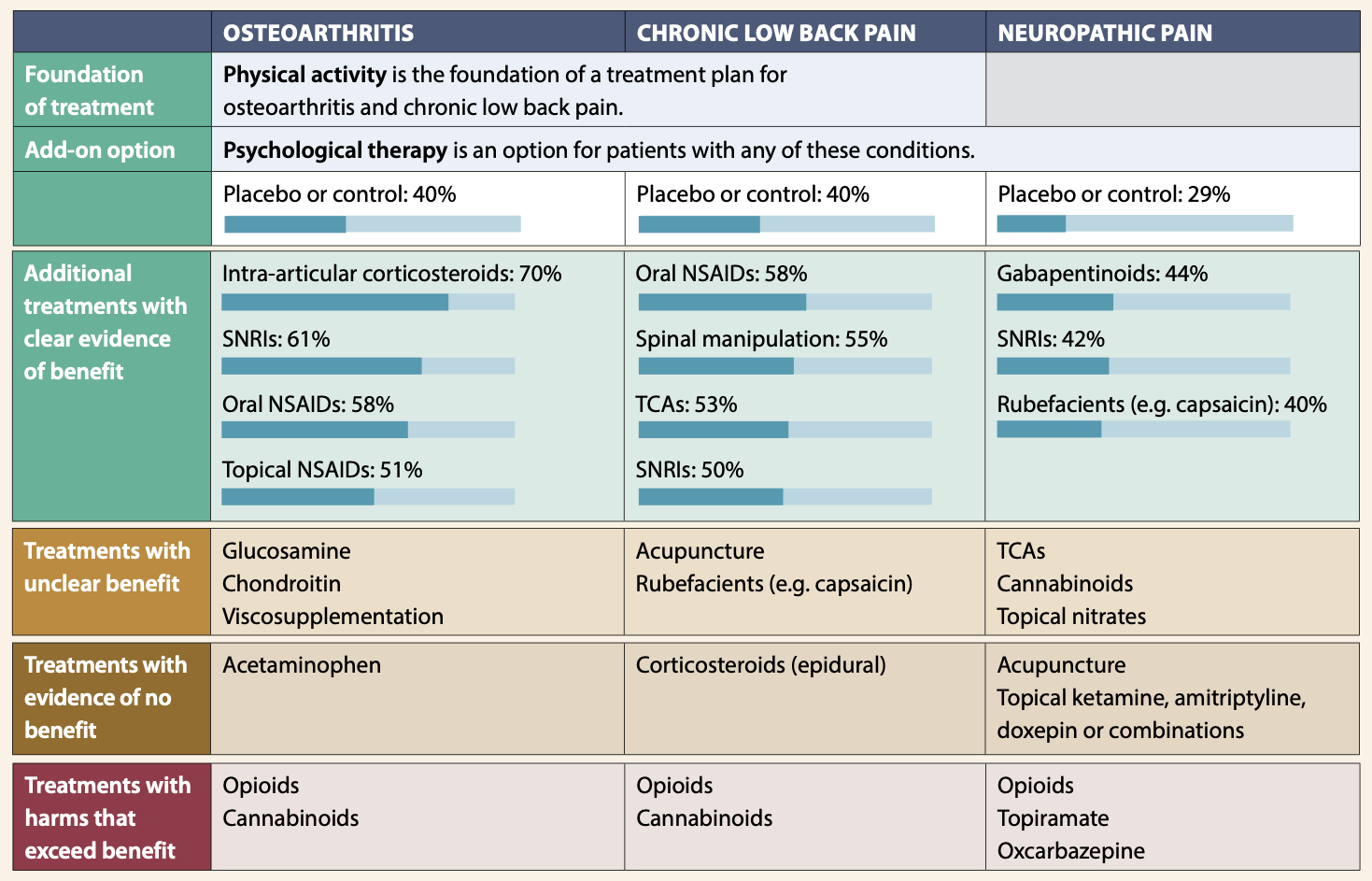 NOTES:
Physical Activity is the most important for arthritis and chronic low back pain.
"Intra-articular corticosteroids" refers to joint injections (also referred to as "cortisone shots").
"SNRIs" refers to a medication called Cymbalta (aka "duloxetine").
"Oral NSAIDs" means anti-inflammatories like naproxen or ibuprofen.
"Topical NSAIDs" refers to cream or gel anti-inflammatories like over-the-counter Voltaren gel.
"TCAs" refers to a type medication like amitriptyline or nortriptyline.
"Gabapentinoids" refers to medications like Gabapentin or Lyrica.
"Acetaminophen" is the same as Tylenol.
If you would like to dive further into other resources for Chronic Pain, please also explore this "Tame the Beast" website.