How Does PatientSERV Save Your Staff Time?
Assumption – You Realize the Need to Charge for Uninsured Services: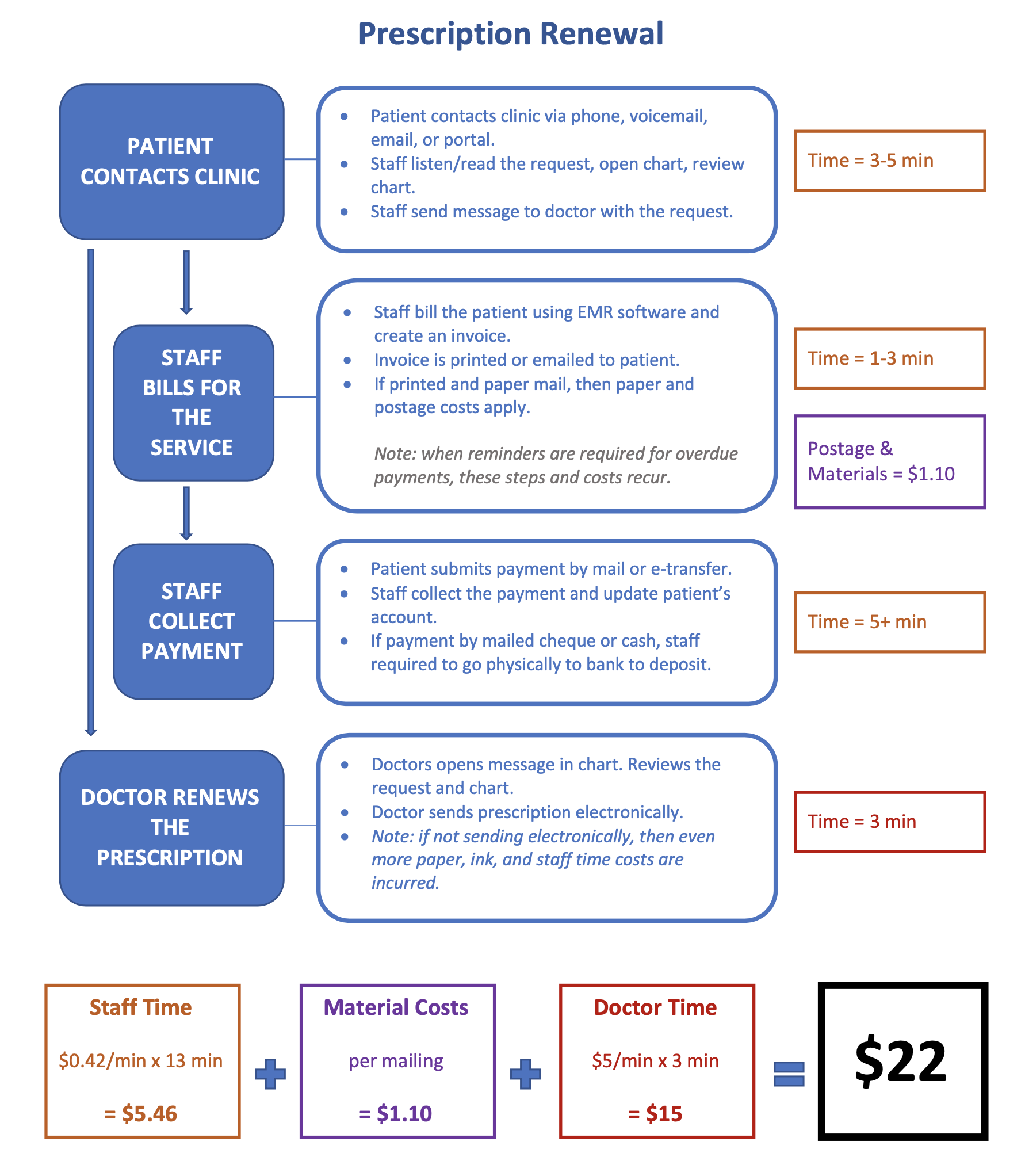 Someone commented, "Ya, but that's assuming you charge a fee." The misperception was that a lot of the costs in that workflow were driven by the billing and collection of the fee.
That's simply not true.
If you remove those steps and costs associated with invoicing and fee collection, you're still left with: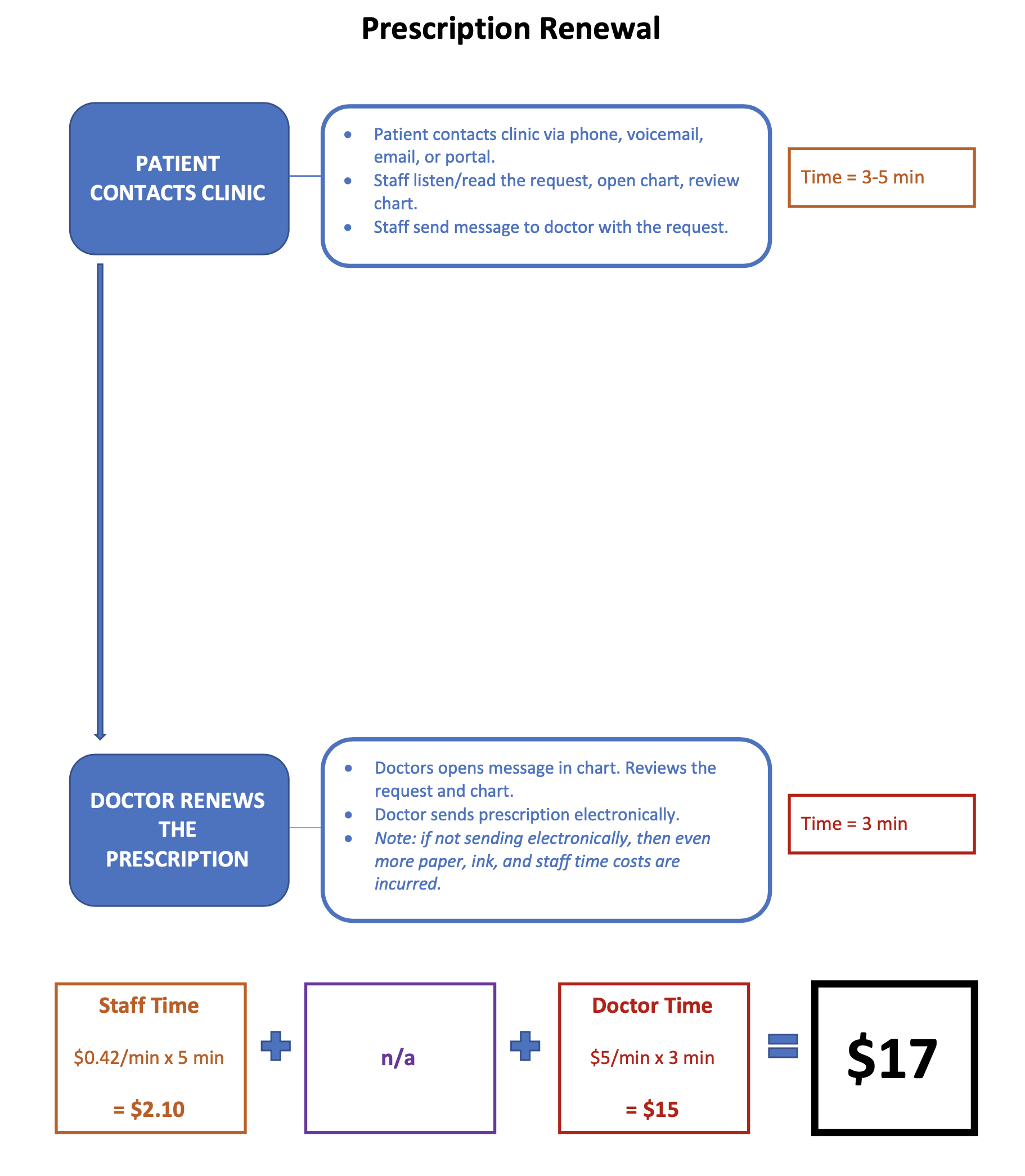 So let's be clear: providing Uninsured Services costs you money if you're not charging a fee for it.
Do you like the idea of personally subsidizing the medical system? (Hopefully, that's rhetorical).
Charging for Uninsured Services is not about being a 'greedy rich doctor.' It's about recovering costs in an era rising of overhead and sub-inflation 'raises.'
I'll be provocative and take this a step further:
I'm not saying that Uninsured Services revenue completely offsets everything. But at least it's a variable that's within our control.
The Workflows Required to Collect Uninsured Services
Assuming we agree that charging for Uninsured Services is a good idea, let's now look at the process required to bill and collect the money.
Here is a typical cumbersome workflow: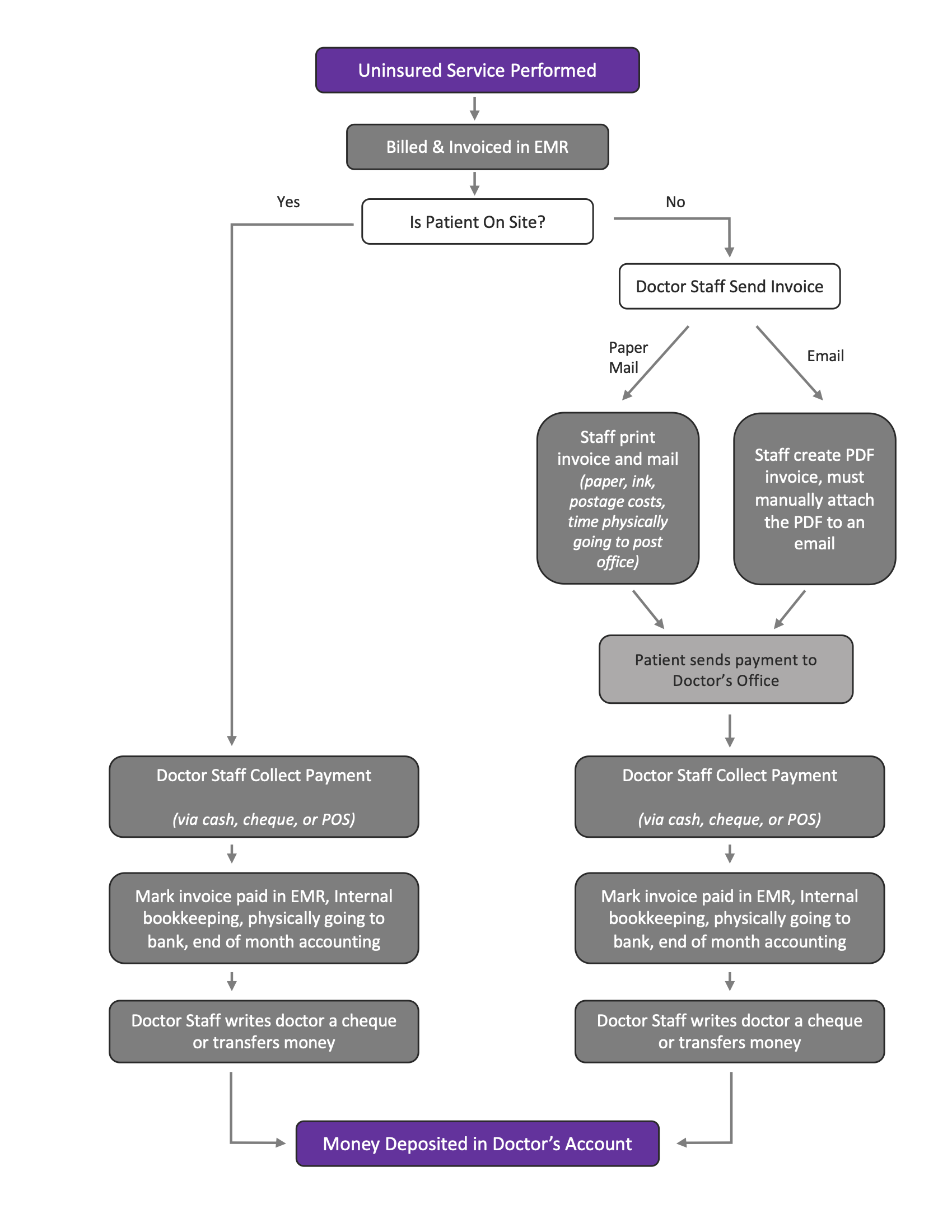 It's especially challenging when the patient is not present at the clinic at the time of service. Look at all that time and resources.
Now look at how using PatientSERV simplifies the process: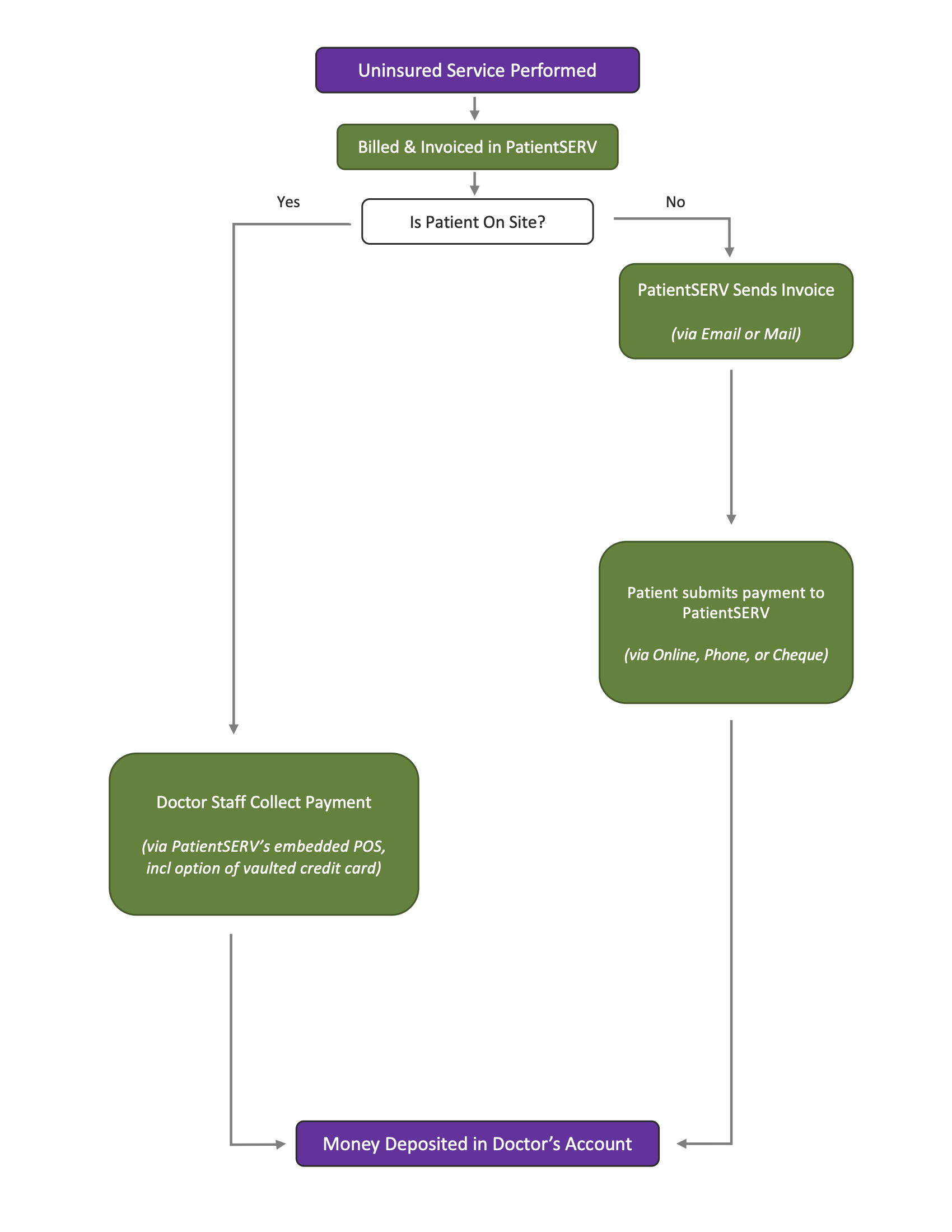 With PatientSERV, your staff are simply making a few clicks to invoice. Then PatientSERV takes care of all the rest! This includes PatientSERV doing all the printing and mailing of paper invoices when the patient doesn't have email.
And PatientSERV does all the bookkeeping and tracking. The lump sum is simply deposited monthly in the doctor's account, including a detailed transparent statement that summarizes the revenue.
Annual Plans Make Things Even Better
Instead of invoicing and collecting for every single service, physicians can offer patients a "Block Fee" option. A "Block Fee" is a single flat rate fee that covers patients for Uninsured Services for a year. At PatientSERV, we call them "Annual Plans."
The power and benefits of Annual Plans are undeniable:
With Annual Plans, since the patient has pre-paid for Uninsured Services, no additional invoicing or collection is required: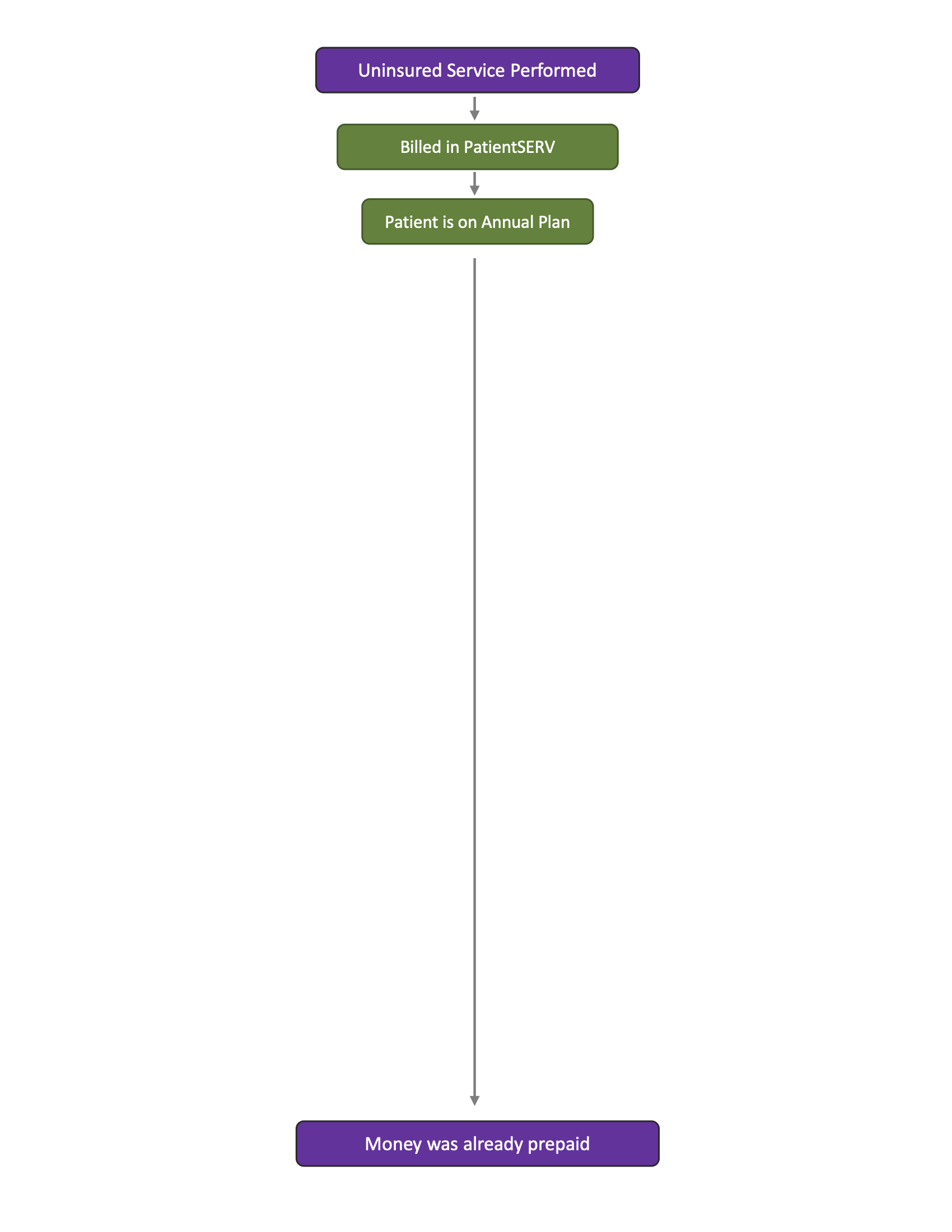 Look how clean and simple that workflow is! After an Uninsured Service is performed, there's no further time nor work to be done – neither for the doctor's office nor the patient.
Very convenient for all. And ultimately higher revenue with less administrative burden.
To summarize, let's look at the 3 different workflows side-by-side-by-side:
Without PatientSERV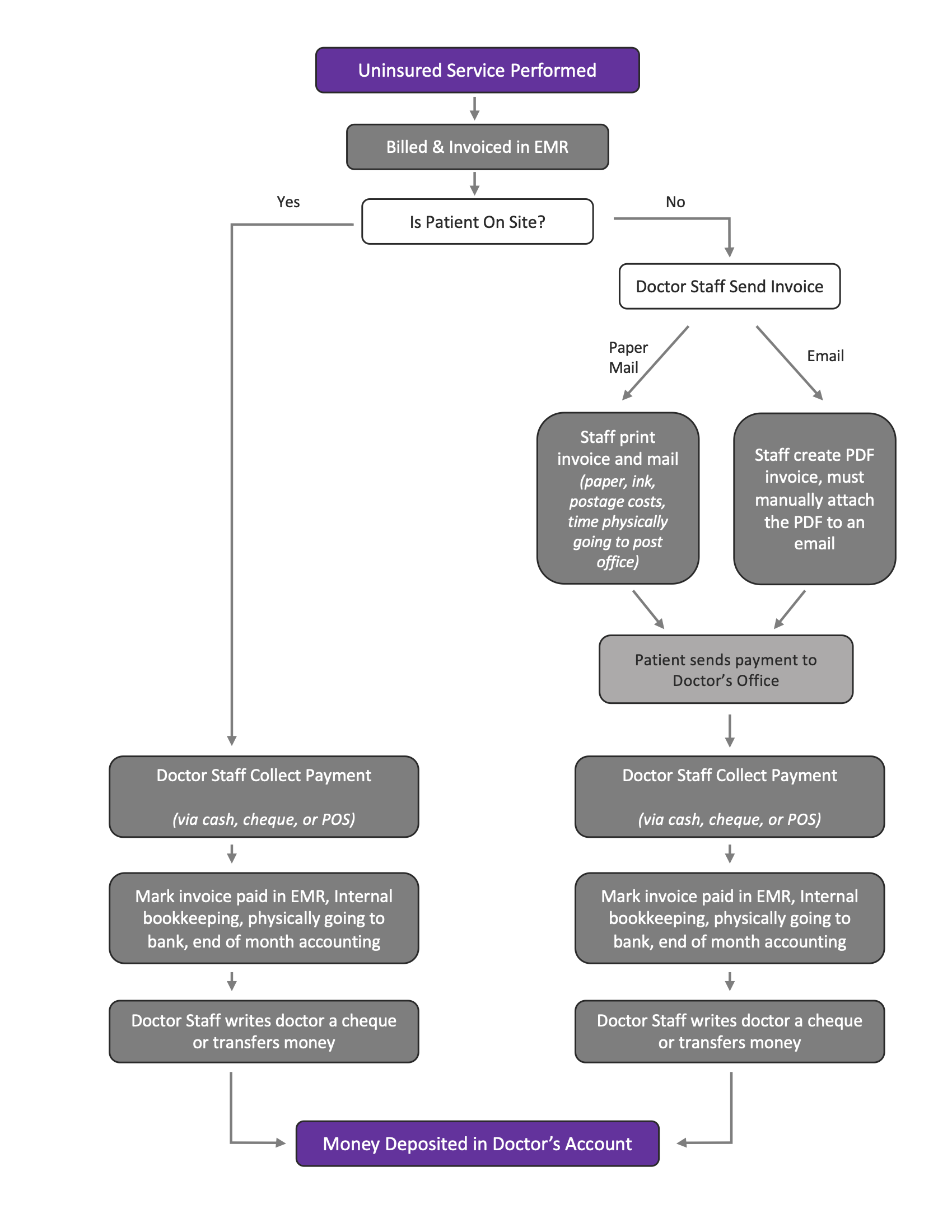 With PatientSERV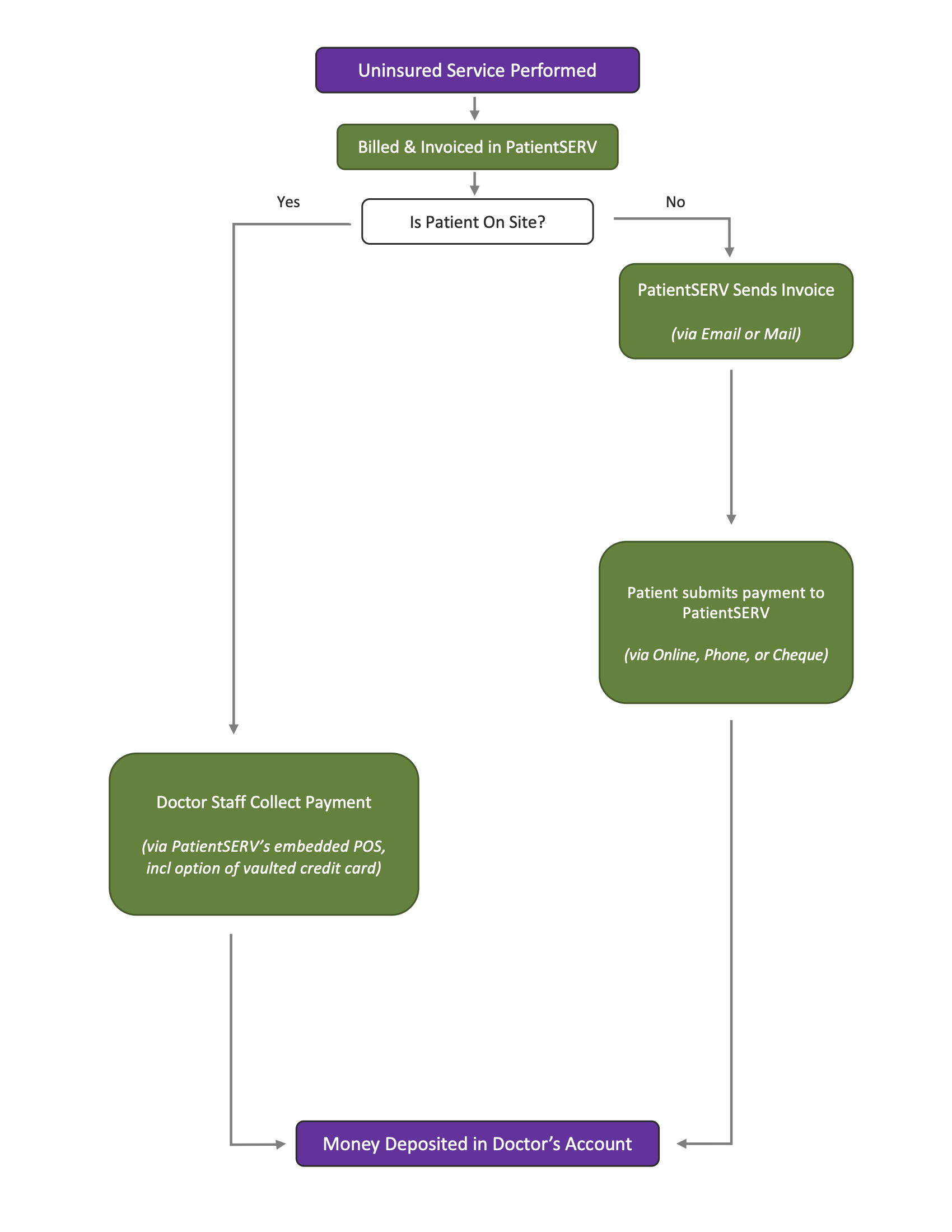 Annual Plan with PatientSERV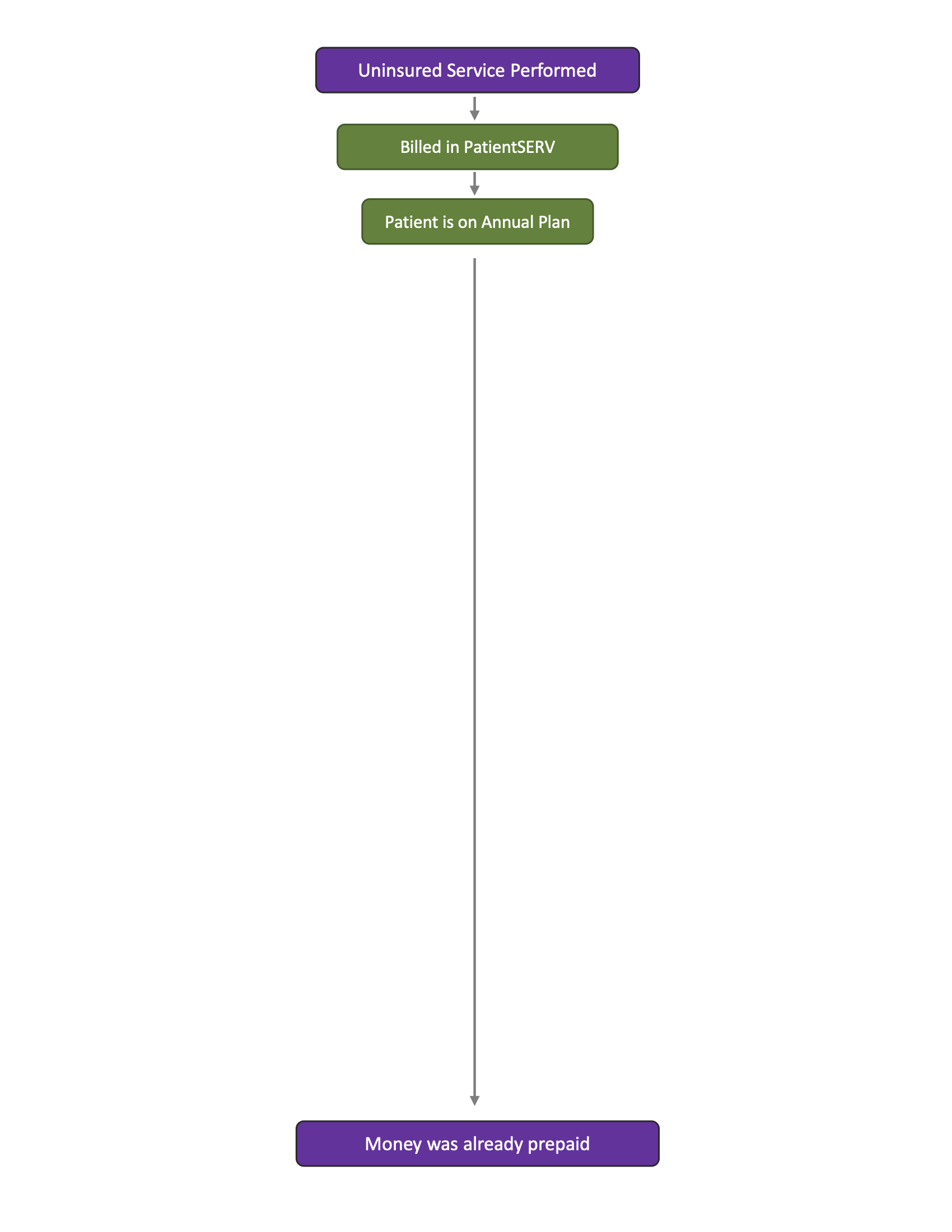 Annual Plans are the way to go.
The problem is that they're nearly impossible to self-implement and organize. That's where PatientSERV comes in.
PatientSERV Makes Annual Plans Easy – And Successful
Years ago, I tried to offer my own Block Fees to patients. It was an abysmal failure. I recall I had less than a dozen patients actually subscribe. And it was an administrative nightmare to trying to implement.
As some of you may know, I'm quite tech savvy and even and an innovator when it comes to EMR workflows. Even with that expertise, it was too much of a burden to try to advertise, organize, and track the block fees.
Think about it:
How would notify all your patients, even those without email, that you are going to start offering Block Fees?
How would you present the offer in an attractive way?
How would you collect payments?
How would you track who was on a Block Fee vs those who are not?
How would you track when all the different Block Fee expiry dates were coming due?
How would you send reminders to patients to renew their block fees?
Even if it was possible, it surely would not seem worth it. You'd probably have to hire a full time staff member for all this work alone.
The good news is that you don't have to worry about any of this. PatientSERV automates everything and does it for you. Plus, PatientSERV has the expertise to maximize the amount of patients who subscribe to Annual Plans.
Quite simply, even as EMR and workflow savvy as I am, there's no way I could do without PatientSERV.
PatientSERV's Back Office Support
PatientSERV is always accessible, allowing patients to pay for services or sign up for Annual Plans online (24/7, afterhours, evenings, and weekends).
But PatientSERV isn't just a technology platform. They provide infrastructure and support to relieve your own staff.
If patients have questions about Uninsured Services, they can contact PatientSERV directly and speak to live customer support. Or email.
PatientSERV tends to hours of calls every week. Think of how this frees up your own phone lines and staff.
PatientSERV also handles all the paper mail, including:
Welcome Packages to patients when first setting up Annual Plans.
Renewal Packages every year.
Invoices to patients without email.
Incoming payments and cheques from patients.
An Efficiency Dream Come True

Highest regards,
Dr. Adam Stewart
Family Physician |Physician Advisor | PatientSERV
May 5th, 2023