The Proven Benefit of Annual Plans
aka "Block Fees"
The topic of offering Block Fees to patients comes with mixed emotions. Everything from curiosity to skepticism to unawareness.
For those unaware, a "Block Fee" is essentially a flat rate fee that a physician can offer patients for Uninsured Services. At PatientSERV, we call them "Annual Plans".
"At PatientSERV, Block Fees are called 'Annual Plans'"
The Power and Potential of $4.99
Subscriptions are the norm these days. Think of all the seemingly small fees that people pay each month. Music streaming services. Television streaming services. Cloud data charges for your computer, email, or photos. And so forth. Even a $2 coffee per day amounts to $60/month.
Now imagine the potential of having every one of your patients subscribing to your services for a mere $4.99 per month. For a typical family practice with 1500 patients, that equates to nearly $90,000 per year in revenue.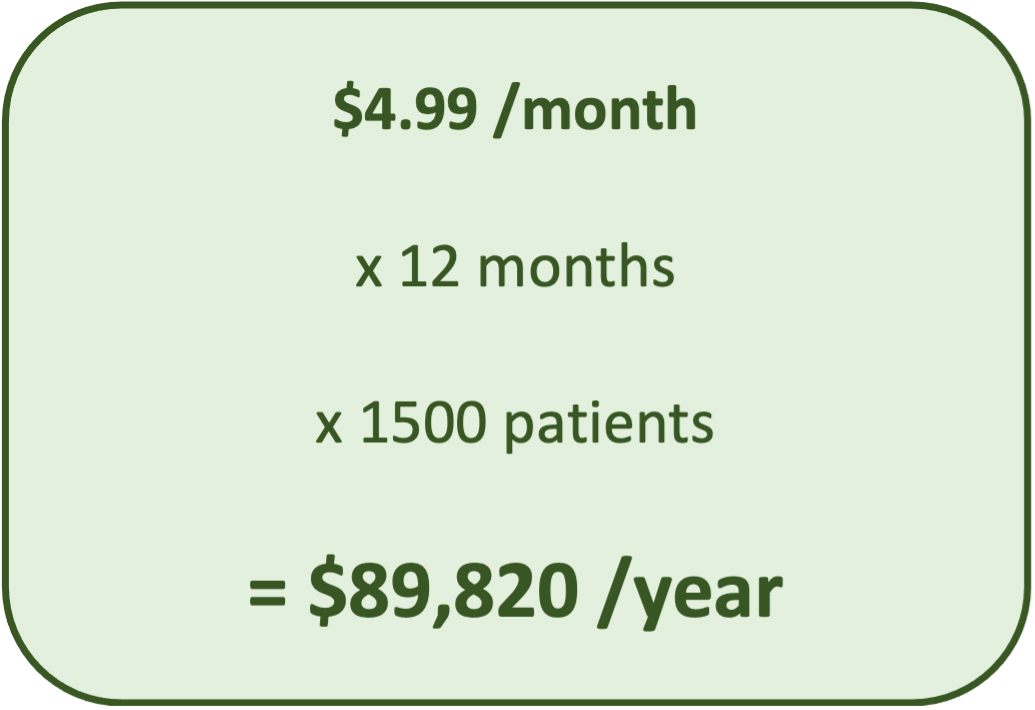 The potential is there. What overhead costs would that help offset? Wouldn't that start to make you feel a little more valued and appreciated for all the uninsured work that you do every day?
The Potential of Annual Plans
It's admittedly unrealistic to expect every single one of your patients to subscribe to an Annual Plan. But with PatientSERV's approach and support, our data shows that easily 15-20% of your practice will purchase Annual Plans. Depending on your practice population, where you practice, and how much value of services is included in an Annual Plan, the typical successful rate is about $100 to $150 per individual per year.
So, let's look at a more realistic estimate: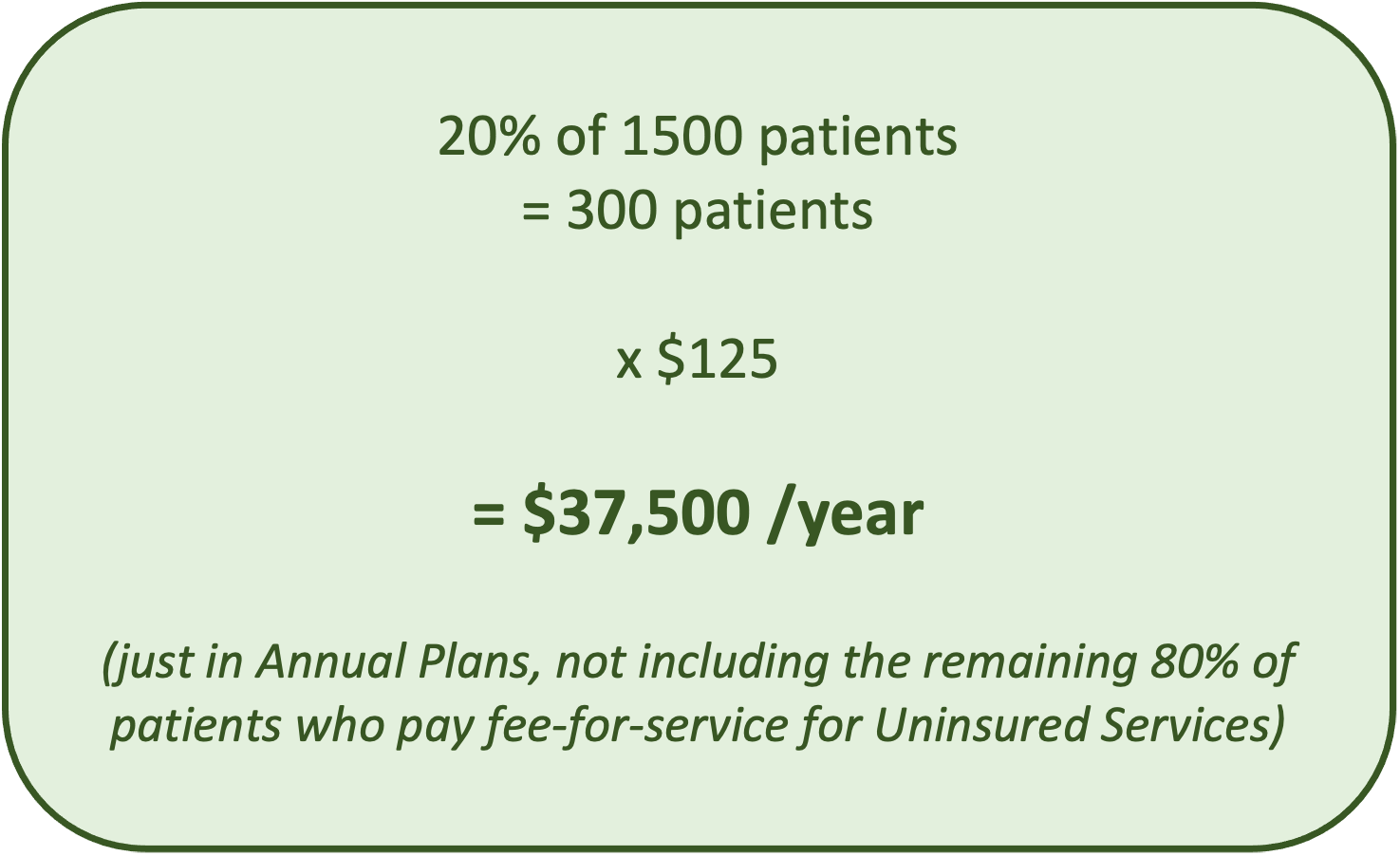 This $37,500 would be just the foundational revenue from Annual Plans. There's still another 80% of patients who would incur "Pay As You Go" services.
In comparison, how much are you currently billing in Uninsured Services per year?
My Journey from a Skeptic to a Believer
I'd always grasped and envisioned the potential revenue stream from Block Fees. I'd envision offering Block Fees at a mere $40/year and then having all of my patients naturally flock and sign up.
I got enthusiastic in 2014. I sent notices to all my patients that I was going to offer Block Fees and all the services that would be included. I even had automatic advertisements pop up on tablets whenever patients were in the clinic.
The result: crickets. Essentially nothing.
Over a span of a couple years of offering Block Fees, I had less than a dozen patients sign up. And even then, it was an administrative nightmare trying to track who had an annual plan and sending renewal notices to encourage signing up in subsequent years.
It was an abysmal failure.
I concluded that Block Fees do not work. I convinced myself that charging fee-for-service for uninsured services was the only way to go. After all, lawyers and dentists don't offer Block Fees. They simply charge for their services.
This was all before 2021, though. Before I found PatientSERV.
Success with PatientSERV
The potential power of subscription fees never escaped me. In 2021, I had a renewed interest in implementing some sort of Block Fees program. I posed questions on social media forums, asking how others had found success.
Colleagues suggested I look into PatientSERV. I recalled emails with the OMA officially and exclusively endorsing PatientSERV. My curiosity was piqued.
So, in September 2021, I booked a meeting with PatientSERV. I was instantly excited by the demonstration. I signed up immediately. And with the results the followed, I'm never looking back.
"With the results that followed, I'm never looking back."
There is something special in the way that PatientSERV presents Uninsured Services and implements Annual Plans with patients. Contrary to my failed attempts in prior years, I had immediate uptake of patients signing up for Annual Plans.
Annual Plan Success is Proven by the Data
For years prior, I had always been diligent about billing for Uninsured Services. I consistently billed about $13,000 per year to patients in Uninsured Services. I considered this to be decent considering I practice in a rural, lower socioeconomic area.
Once I started with PatientSERV, though, I had immediate uptake of patients buying Annual Plans. I doubled my revenue in the very first year, and I'm already seeing growing success in my second year.
Here is a comparison of a typical pre-pandemic year compared to my most recent year with Annual Plans and PatientSERV: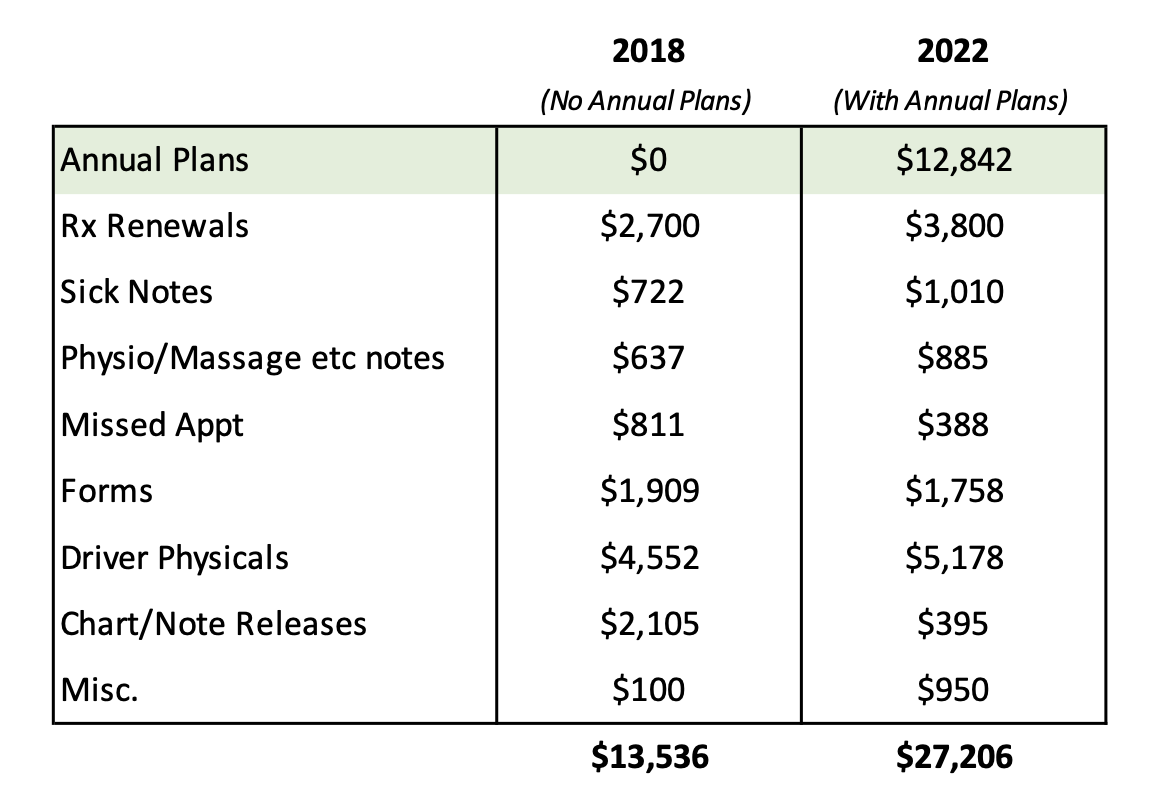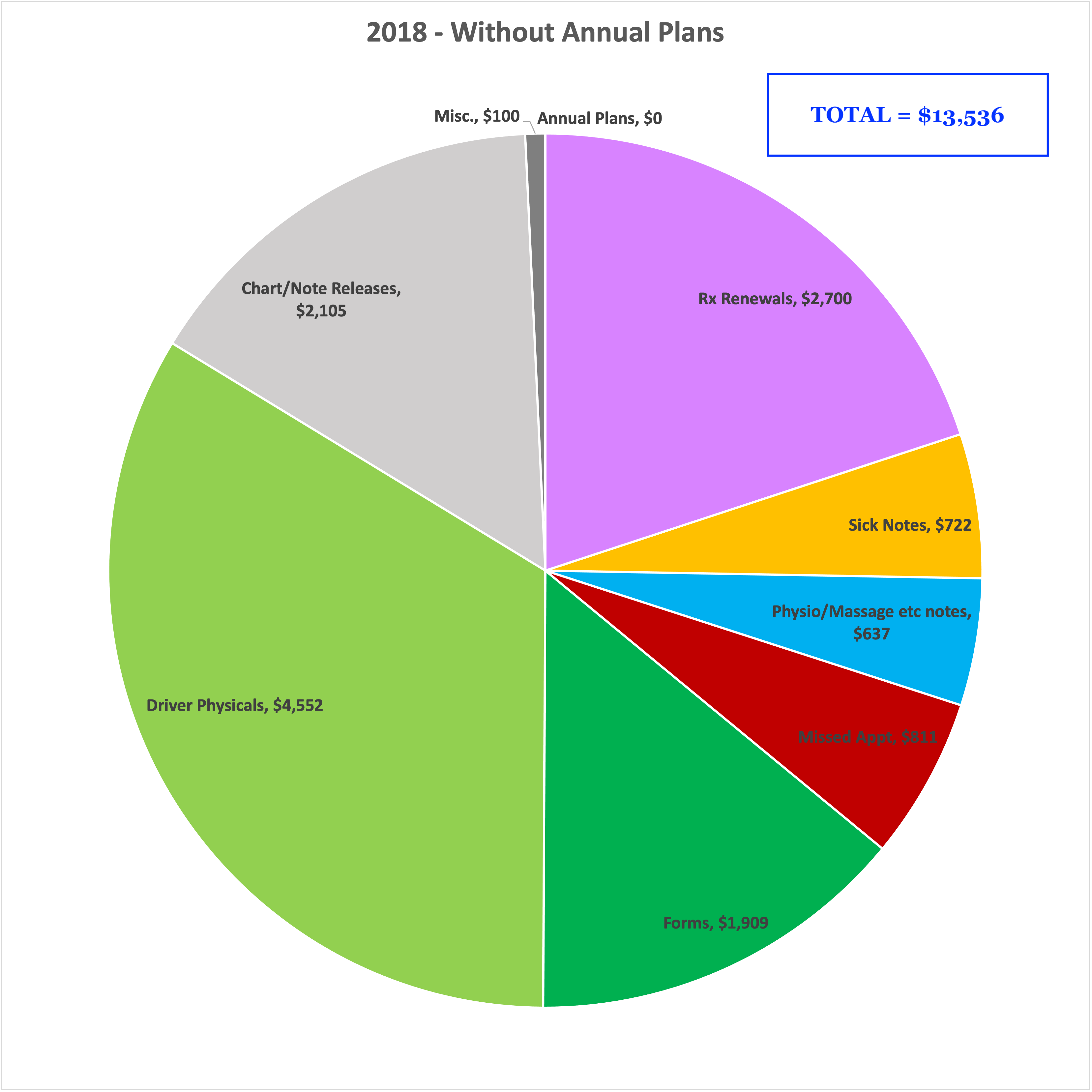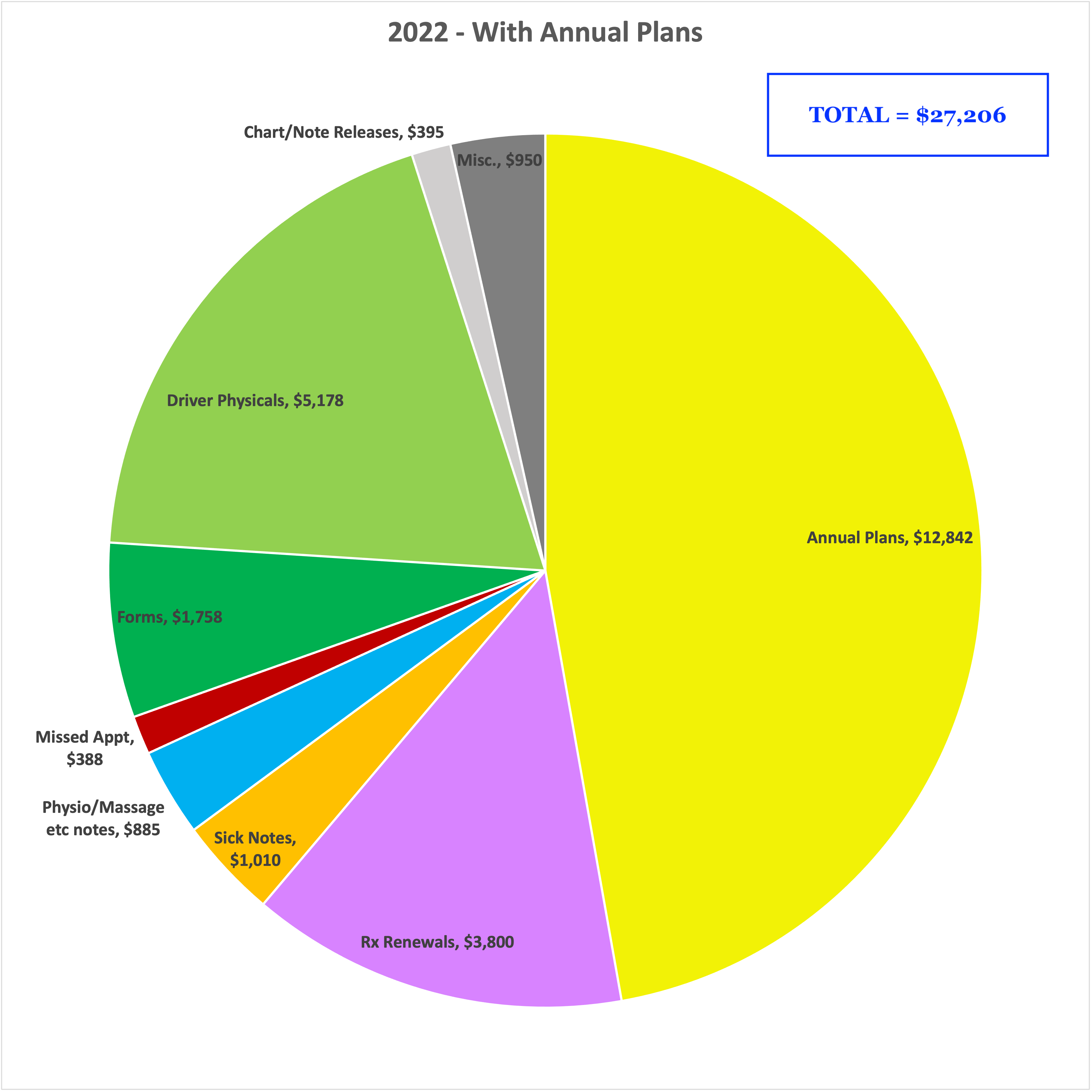 Another way to look at it: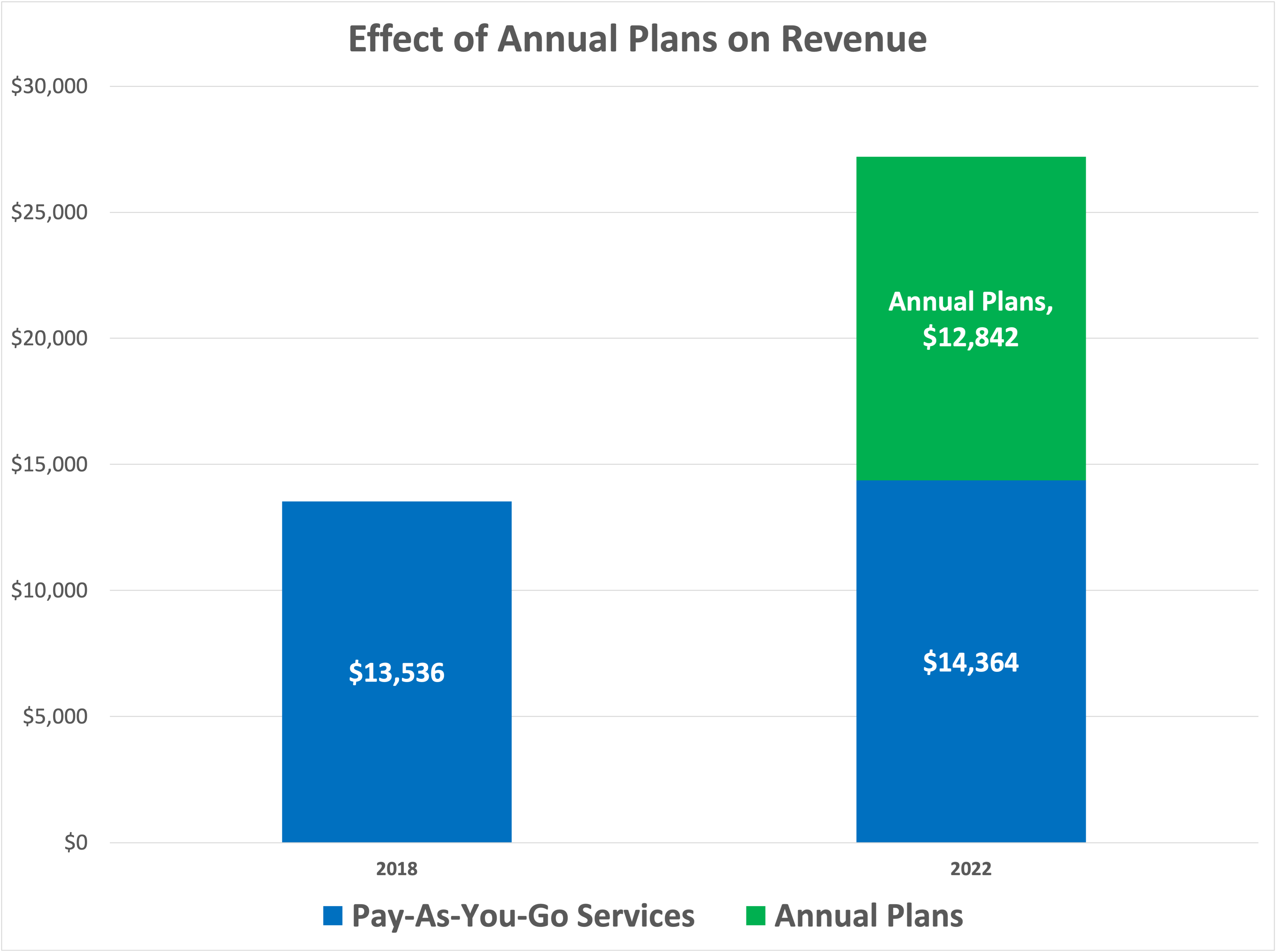 Comparing 2018 to 2022, nearly all the extra revenue was driven by Annual Plans. My practice size was the same size (approximately 1400 patients). I was not doing any more work. I was simply collecting more revenue for the work I had already been doing for years.
"The extra revenue was driven by Annual Plans"
My story is not unique. Time and time again, we see these results repeat themselves with PatientSERV.
Most physicians see even more impressive results because many are frankly not diligent in billing for Uninsured Services to begin with. So, it's common to see annual revenues jump from $5,000 to $25,000 or $30,000 per year (or more in some cases).
The Mutual Benefits of Annual Plans
Annual Plans are a win-win-win solution for all of patients, doctors, and staff.
Benefits for PATIENTS:
Annual Plans function as an insurance plan. Pay a predictable flat rate and never have to worry about incurring high fees for sporadic individual services.
Value for dollars. Most annual plans are priced in a range of $100-$150 per individual. The patient receives thousands of dollars' worth of value, if you add up the cost of all the services included.
A single payment per year, rather than being repeatedly invoiced and paying for sporadic services incurred throughout the year.
Benefits for DOCTORS:
Increased revenue, as illustrated above.
Stable and predictable revenue stream.
A single payment per year, rather than time and resources being spent on repeatedly invoicing for sporadic services incurred throughout the year.
Benefits for STAFF:
A single payment per year, rather than time and resources being spent on repeatedly invoicing for sporadic services incurred throughout the year.
Less time invoicing and chasing payments.
Staff Rewards program included in PatientSERV's platform.
What Can You Expect in Your Own Practice?
If an Uninsured Services program and Annual Plans are not offered in an effective manner, they will surely fail. I know. I tried and failed, as mentioned above.
But when done right, like with the support and experience of PatientSERV, physicians can enjoy incredible success.
Time and time again, the experience repeats itself.
The data from PatientSERV reveals the following trends:
15% to 25% of your patients will subscribe to Annual Plans.
50% to 90% of your revenue will come from Annual Plans.
Ultimately, you will generate $18-$25 per patient per year (sometimes even more). (i.e. a practice with 1500 patients will likely generate in the range of $27,000 to over $37,000 per year).
Where are Things Headed in the Future?
In the coming years, do you think the need for Uninsured Services will increase?
Surely, it will. And the importance of having an effective Uninsured Services program will be increasingly crucial. Uninsured Services and Annual Plans will become a progressively significant revenue stream.
Just as a Netflix subscription started out at $8/month and gradually increased to $21/month …
Interested In Getting Started?
If you've decided to take the leap of faith and want to start offering your own Annual Plans, you could be up and running with PatientSERV in no time at all.
For more information, visit www.patientserv.ca and book a demonstration.
Highest regards,
Dr. Adam Stewart
Family Physician |Physician Advisor | PatientSERV
January 8th, 2023