April 6, 2018
Every single telephone call, fax, email, letter, and request to a medical office form requires the time, skill, and resources of the staff and physician. Hundreds of such requests every day amount to enormous costs to operate a medical clinic efficiently. Requests for prescription renewals represent an enormous area of this administrative burden and physician time.
Beginning in 2016, Dr. Stewart started to track statistics related to prescription renewal requests.He also organized and led several meetings with staff and the local pharmacy where they brainstormed and trialed different measures to reduce the number of prescription requests.
They tried to synchronize patients' medications so that they all came due at once. They ensured patients have ample repeats on their prescriptions. They tried reminding patients to check for repeats through multiple methods before contacting our office. They tried to encourage patients to call in for all their medications at once, rather than one at a time. They tried to encourage patients to get their prescriptions renewed during visits with the doctor, rather than calling in at a later date.
These strategies resulted in some small improvements as depicted in graphs below: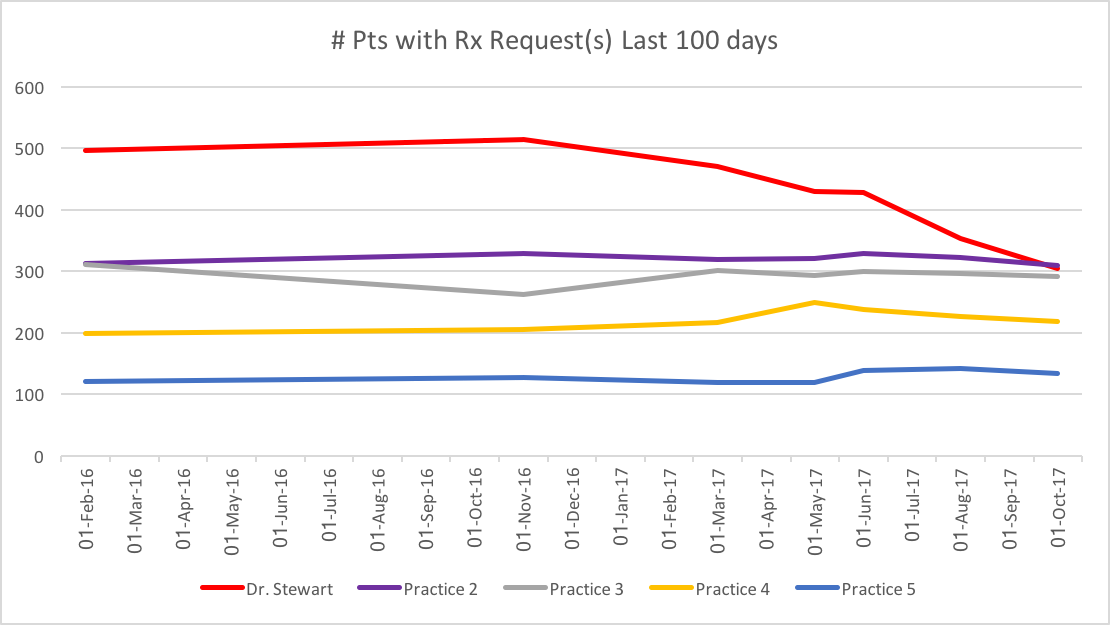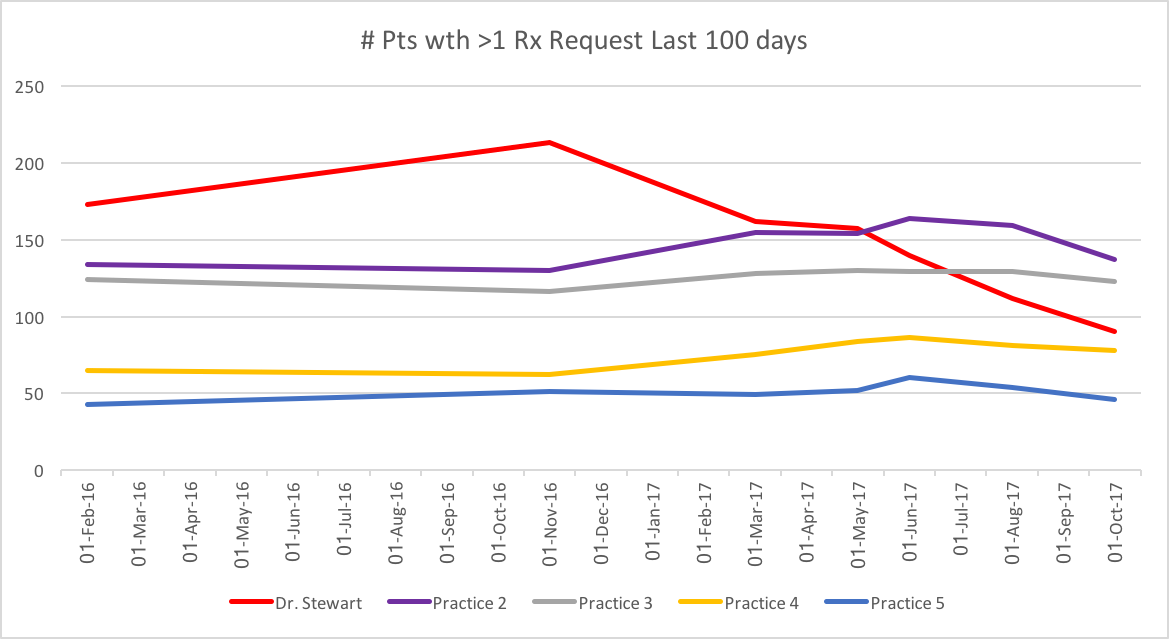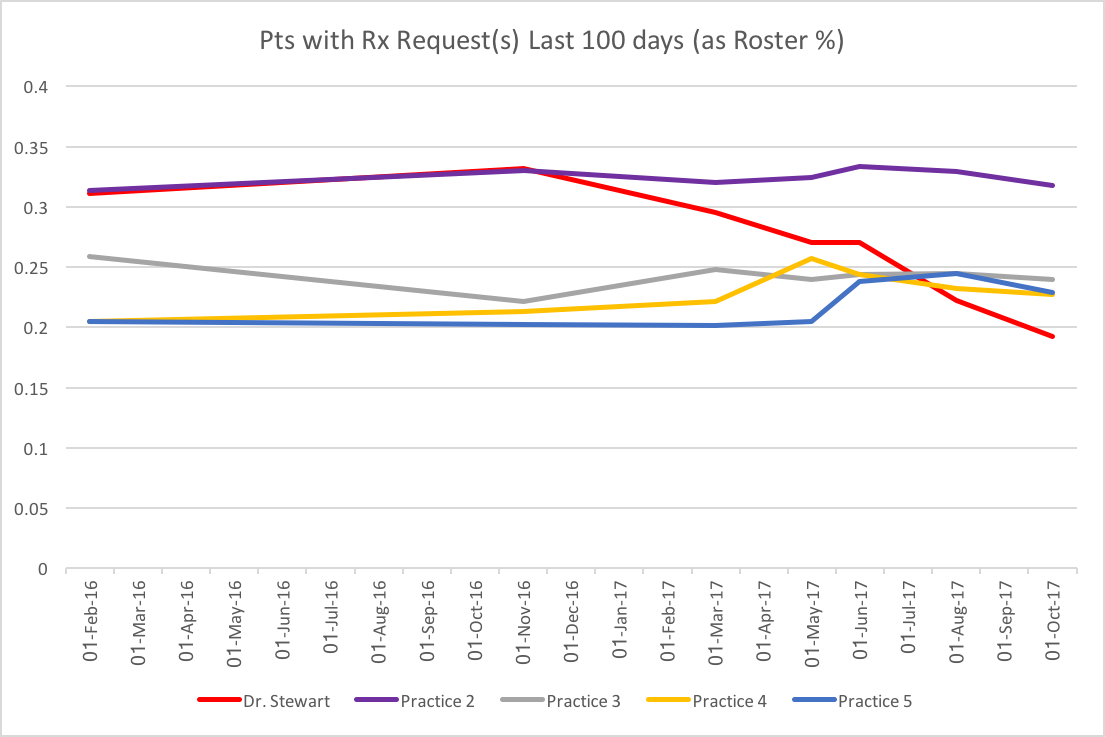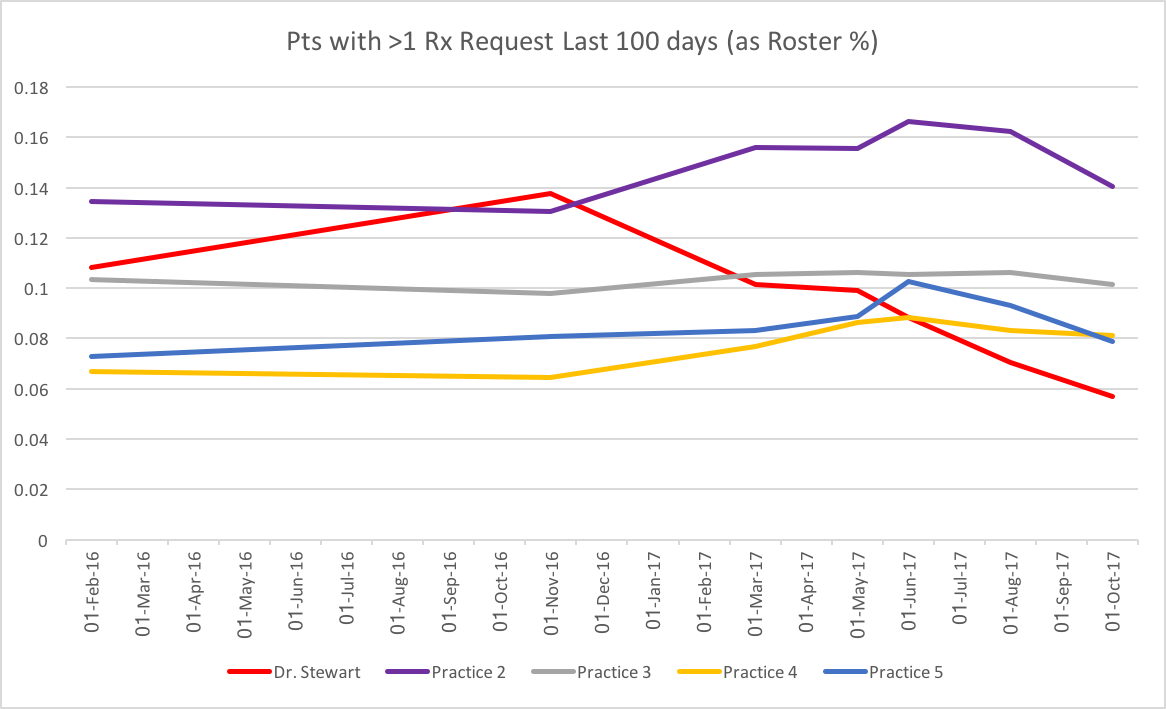 Unfortunately, though, none of these efforts proved to be successful to a satisfactory level. Every day, the office still received an excessive number of prescription requests, even from patients who:
Already have repeats at their pharmacy;
Call in for one medication one day, and then call in for another a few days later, instead of calling in for them all at once;
Call in for a prescription even though they just recently saw the doctor and could have asked for it then.
Misplaced prescriptions that were already given.


As of April 6th, 2018, after only five months, the policy has proven to produce astounding reductions in the number of prescription requests.
The following graphs depict the numbers of prescription requests, comparing Dr. Stewart's practice to other clinicians in the same office who did not implement the policy: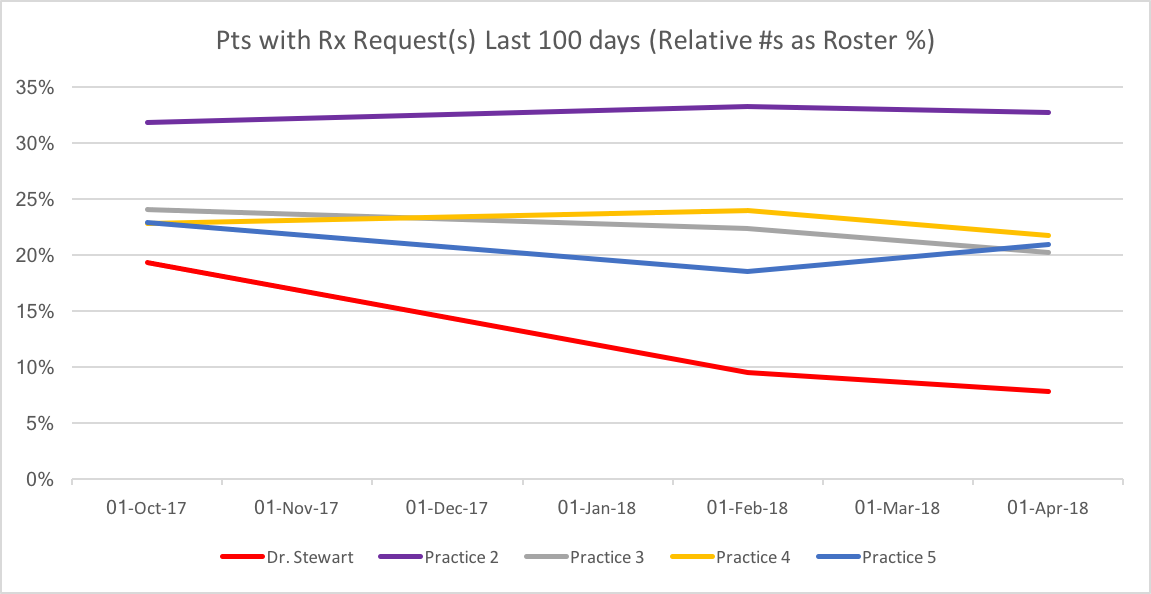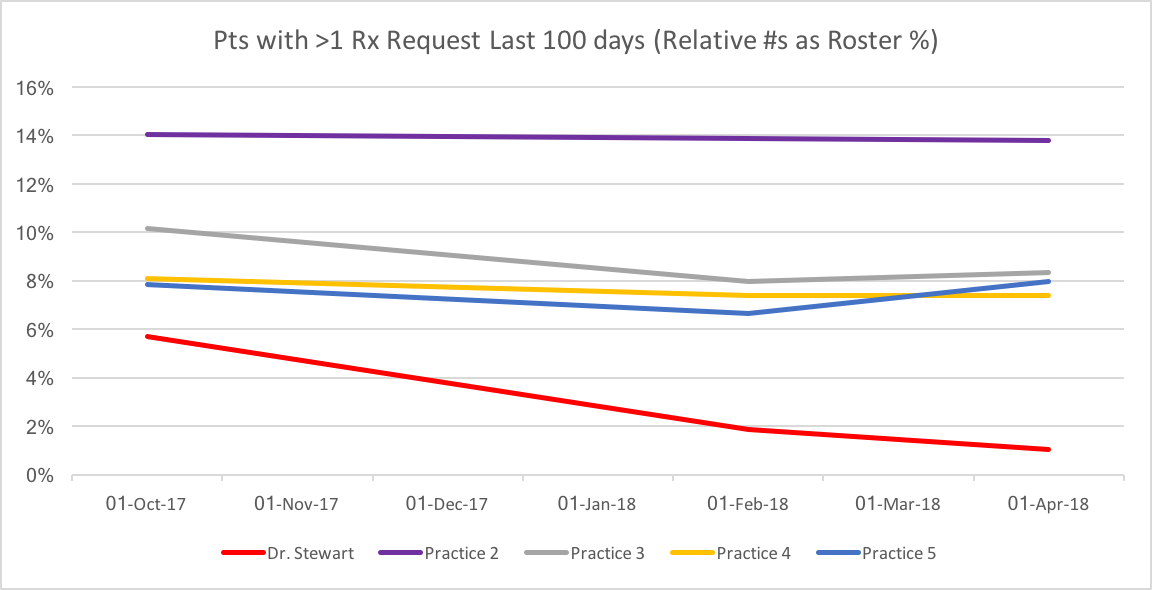 The following table summarizes the latest data:

Prescription Renewal Visits:
The primary intent of charging a fee for prescription renewals was never to collect revenue from patient. Instead, the policy was implemented in order to decrease the administrative burden of avoidable prescription requests.
Instead of paying a fee, patients were guaranteed a "Prescription Renewal Visit" prior to medications coming due (noting that standard office policy of allowing at least two business days for prescription renewals, or in this case, an appointment). Otherwise, the fee would be waived.
Naturally, this would result in a certain number of increased patient visits to the clinic.
Dr. Stewart also tracked the number of such visits that were booked strictly to renew prescriptions:

Additional Points:
When patients come in for Prescription Renewal Visits, Dr. Stewart is able to renew all of the patient's medications at once and emphasize that they now have repeats on all of them for the next year. Thus, the same patients will not be returning, nor calling in for renewals, every three months.
An additional benefit to the Prescription Renewal Visits is that Dr. Stewart is able to quickly advise patients if they are overdue for other tests, saving back and forth messages, or future recalls, by staff.
During these visits, the physician can still at least generate a small amount of compensatory revenue in capitated models via shadow billing and taking the opportunity to address smoking cessation and/or other patient care and billing opportunities.
Patients are admittedly still learning the new system.
Thus, further improvements in results are expected over time.
UPDATE AS OF JANUARY 15th, 2019:
Another physician implemented the same policy for prescription renewals and the results are similarly striking: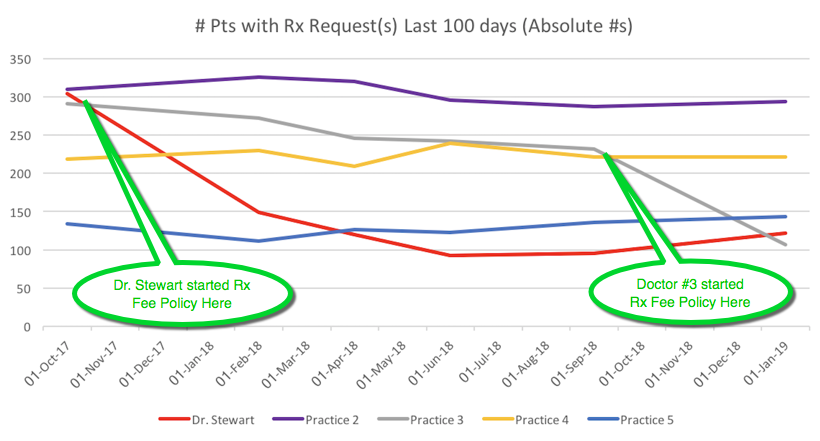 ** All of the above is available here in PDF format **
Click here to return the main Prescription Renewal Policy page